*STEELERS.COM CAMP DIARY *
Steelers.com training camp diary:
 

SUNDAY, AUGUST 17
 
Today started off bright and early with the American Respiratory Alliance Women's Training Camp. Over 250 ladies from all over the country took part in the event, which included instruction from former Steelers Dermontti Dawson and Mike Logan and current Steelers Jeff Reed and Greg Warren.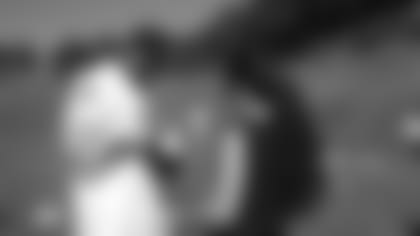 Wide receiver Hines Ward made some fans happy before the afternoon practice when he went outside the locker room and handed out t-shirts and a pair of shoes to those waiting for autographs. The smiles were plentiful from those Ward shared the goodies with.
 
The players definitely were in a good mood for the afternoon practice knowing it was the last one for this training camp. Chris Hoke danced beforehand and the defense did an enthusiastic roll call much to the delight of the fans.
 
Shortly into the start of practice defensive end Orpheus Roye agreed to a contract with the team, got in uniform and took the field
 
Also on hand for the practice was quarterback Charlie Batch, attending his first practice since he suffered a broken collarbone against the Eagles in the preseason opener.
 
"It was good to get out here and see the guys, but at the same time disheartening because I couldn't be part of it at this point," said Batch. "It was something good for me to be out here though."
 
The last night of camp was surf and turf night in the cafeteria, a favorite of many of the players.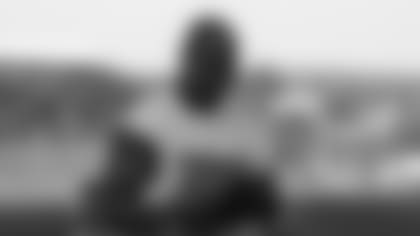 The annual end of camp offense vs. defense softball game took place after dinner, with the offense coming out on top.
 
Today was the last day of camp and we have to say thanks to everyone who helped make training camp run smoothly – from those who take care of everything in Benedict and Rooney Hall, to the cafeteria staff, Larry and all of the St. Vincent staff, the camp security staff, Steelers Experience staff and everyone who worked hard in the camp office. It takes a lot for camp to run smoothly – and everyone did their part.

 
 
SATURDAY, AUGUST 16
 
It was back to camp for the Steelers after a day off following the second preseason game against the Bills in Toronto.
 
Safety Troy Polamalu ran on Saturday and Sunday, and it looks like he will return to practice on Tuesday. Polamalu ran on one of the fields that wasn't being used and was joined throughout his run by kids he selected from the crowd, at one time numbering almost 50 kids.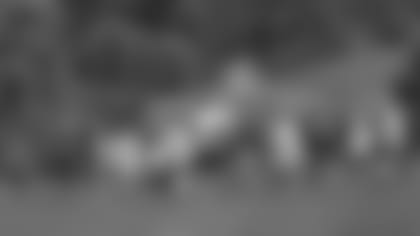 Safety Ryan Clark continued make a fashion statement at camp sporting a fun backpack again this year.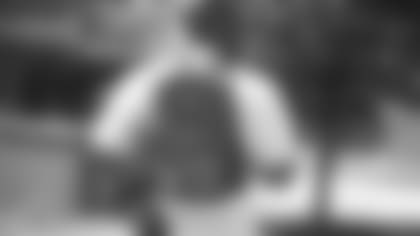 Today is a travel day for the team as they head to Toronto to take on the Bills on Thursday night.
** The last of the two-a-days started off with the players getting the morning off, the first practice that they had cancelled during the short camp.


 
Mike Tomlin did his pre-game press conference in preparation for the Bills game in Toronto on Thursday night.
It was back on the field for the afternoon and it was a good practice.
 
After practice Steelers players took time out to visit with kids who were there with Variety The Children's Charity. The players spent time talking with the kids, posing for pictures and signing autographs.

 
"That's what I like to do the most, be able to interact with the kids and see the excitement on their face," said tight end Heath Miller. "If you are able to bring a smile to their face you know they enjoyed watching practice, that means something to you.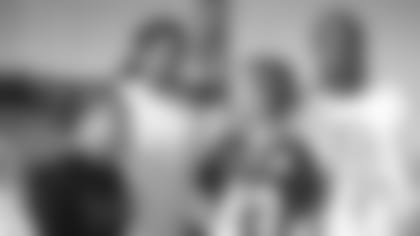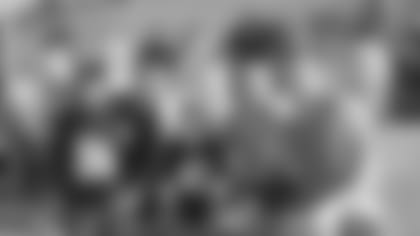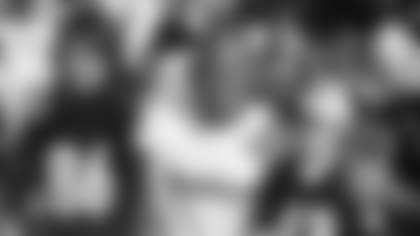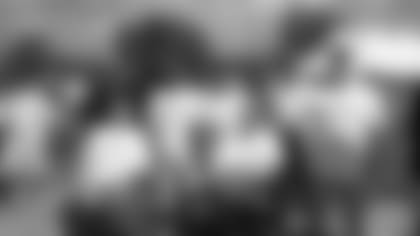 Also at practice were a group of wounded soldiers who are at the Walter Reed Army Hospital. The visit to camp was a part of a project the hospital and the Wounded Warriors Project does to help the soldiers get back into society.

 
Among those that visited were Staff Sergeant Earl Granville, who is a Steelers fan.
"I came here to give the Steelers support," said Granville who is from Scranton, Pa., who has been at the hospital for two months after being injured after hitting an IED. "It's sweet being out here and seeing what the players do and having fun."

 
Kenneth Butler, who is in the 82nd Airborne and hails from Braintree, Massachusetts, is a Patriots fan but didn't mind sporting a Steelers t-shirt and was happy to be at camp.
"I am a football fan," said Butler, who has been at Walter Reed since May of 2007. "I love football. It's a good opportunity to come out and see the beginning of the season. It's nice to get out. It's a beautiful day out here. I love sports. It's good to get out here."


 
Fans came out in full force for the afternoon practice and there are people there from near and far. Among those in attendance were and Josh and Paula Weisman, with four-year old twins Adi and Aron. Paula is originally from the Pittsburgh area but the family now lives in Efrat, Israel.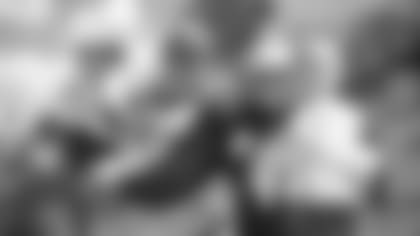 **
It was a cool morning, perfect for the players as they had two practices schedule for the day. The morning practice included a visit by a group of youth football coaches, there to learn from the Steelers coaches.
Before practice players made a plea for their annual movie day, when they get a practice off to get to go to the movies. Running back Carey Davis and linebacker Arnold Harrison sang during stretching, making up their own lyrics in an effort to get a practice off. It was met by cheers and laughter from the players.

While the temperatures were cool in the afternoon, it wasn't dry. Rain fell three separate times during practice, coming down hard at times. It didn't disrupt practice, though.

"We are going to play in the rain from time to time," said Mike Tomlin. "We can't let rain stop us from what we need to do. We will play in all sorts of circumstances; hot, cold, wet, dry. As long as it is not lightning we need to get our work done."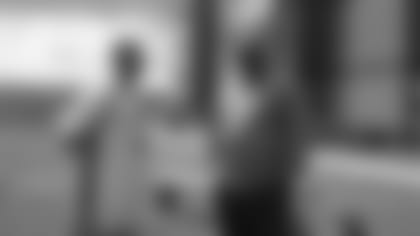 The morning started off with Jamie Dukes from NFL Network in town to do an interview with rookie wide receiver Limas Sweed.

But things would only get more hectic as the day progressed. Byron Leftwich and Dante Culpepper were brought in to work out to fill the void when Charlie Batch broke his collarbone against the Eagles. The two worked out off campus to keep things private and as of practice time, neither was signed.

There was a new face on the field for afternoon practice, though, and a familiar face returned.

The Steelers signed punter Mitch Berger to compete for the spot.

"I got the call at seven last night in Phoenix, on a plane at 11, flew into Atlanta and connected and got here and got settled and came to practice," said Berger. "I am just working on my kicking and timing and try to kick the ball the best I can."

Back at practice was nose tackle Casey Hampton, who was taken off the physically unable to perform list.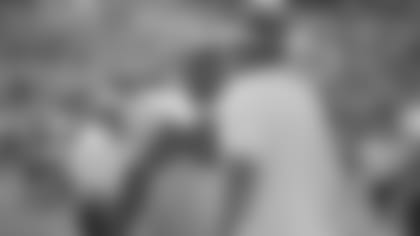 "It was good to get back out there with my teammates and bond with them," said Hampton after his first practice. "I have been around them the whole training camp and haven't had the opportunity to be on the field with them. From that standpoint it was good getting out there and being with them and having fun with them again."
The team held only a morning practice on Thursday as they head into final preparations for Friday's preseason game against the Philadelphia Eagles. The game can be seen on KDKA and FSN Pittsburgh with kickoff at 7:30 p.m. Below are some pictures from during the week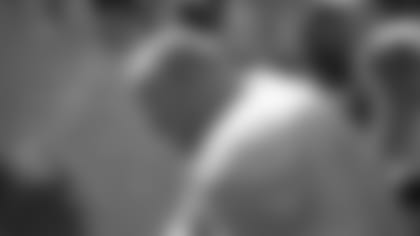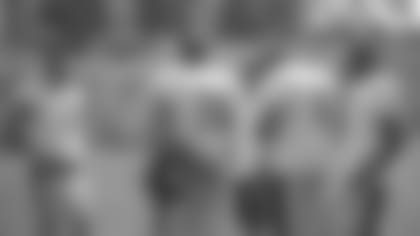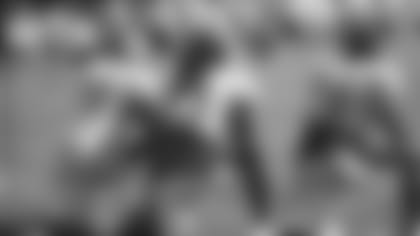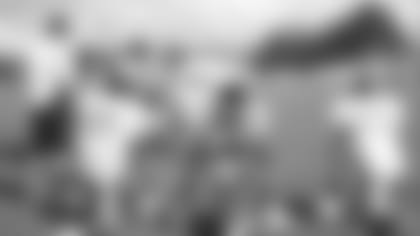 **Things got a little physical during the afteroon practice when Hines Ward was hit hard over the middle by safety Anthony Smith. Ward was none too happy after practice about the hit.
"There's not much to say. He hit me," said Ward. "You saw what happened. You guys saw it. There's really nothing for me to say."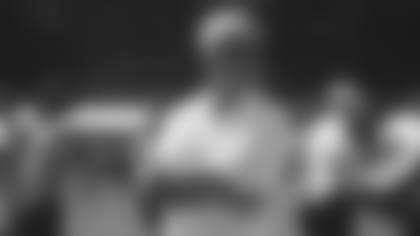 Former Steelers running backs coach Dick Hoak was at camp today wataching practice from the sidelines.
It was the first visit to camp that Hoak has made since he retired after the 2006 season.
Hoak said he doesn't miss the rigors and schedule that took place during training camp and the football season, but he does miss being around the team atmosphere.

He is enjoying his free time, though.
**
The Steelers held their second night practice of training camp and the highlight was goal-line. The defense came up big again, winning for the second time in camp. Rookie linebacker Mike Humpal returned to practice and was one of the heroes for the defense when he stopped Justin Vincent from scoring to secure the win.
The players had the afternoon off because of the night practice, but that didn't mean there wasn't plenty of activity as the team hosted the Gatorade Junior Training Camp on campus. About 250 kids took part in the event, which included on field drills and hearing from Steelers wide receiver/kick returner Jeremy Bloom.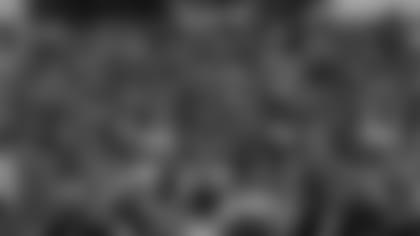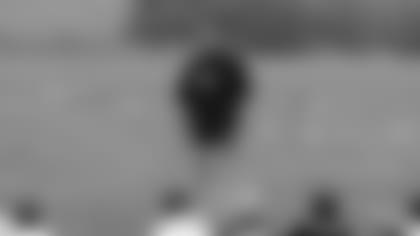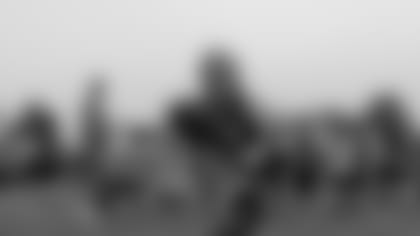 The Steelers dodged the raindrops to get their morning practice in at training camp. The team was benefitted by the fact that the field they used was covered overnight andthen the tarp taken off by a hardworking crew prior to the start of the morning session.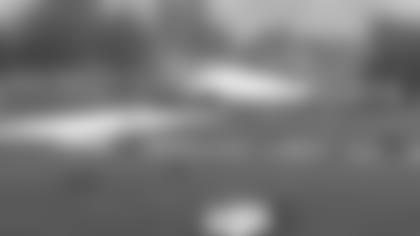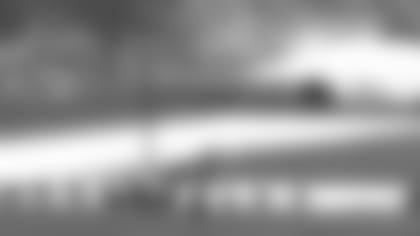 MONDAY, AUGUST 4

 
There was plenty of excitement on the field on Monday afternoon and it didn't go unnoticed by head coach Mike Tomlin.

"I thought we had a significant day today," said Tomlin after the practice. "This morning I thought as a football team, we were in survival mode. Hopefully there was a feeling that we may have crossed a threshold this afternoon where they were enjoying it and not enduring it. We are thriving. Only time will tell and we will see what it's like tomorrow when we come out here and get us a couple in. There was a lot of energy and enthusiasm in the afternoon. The guys came and competed. That's what training camp is about. You go through a process, you know. You break the group down, you break the bodies down if you will and you build them back up and get ready for action. Maybe it was a significant afternoon, we'll see."
Maybe it was that enthusiasm all afternoon that prompted Tomlin to give his team the chance to end practice early. With about 25 minutes left in the session Tomlin gathered the group and called on kicker Jeff Reed to hit a 50-yard field goal. If he made it, practice is over. If not, they keep going.
"It's only going to make me stronger," said Reed. "What made me mad is I don't like missing anything. I know these guys are tired because I am."

Tomlin gave Reed another chance, though. With just under 10 minutes Reed hit his field goal, sending a happy group of players off the field.

 
There was good news on Monday as Chris Kemoeatu returned to practice after spending the first week of camp on the physically unable to perform list.
 
There is always stuff happening away from the field at camp too. From guys like Troy Polamalu taking over the camera from the team photographers to visits from special guests, there is never a dull moment.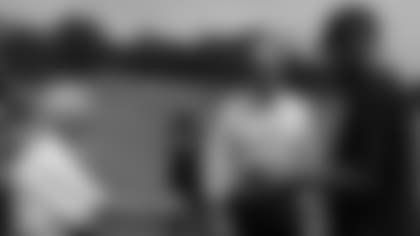 On Monday Pennsylvania Senator Robert P. Casey, Jr. was at St. Vincent College attending a forum on childhood issues at the Fred Rogers Center.

 
After the forum Casey spent time visiting with Dan, Art, II and Jim Rooney, before making his way to the field for his Steelers debut.

 
"It's a great honor to be here with Ben and also the Rooney family," said Casey. "I have known them a long time and they have been great friends."

 
Casey, who took off his suit coat and tie on field, received tips from Roethlisberger on the quarterback position and dropped back and threw a few passes.

 
"I am just glad Hines Ward didn't show because I am not sure I could reach him," said Casey.

After that he lined up, ran a route, and pulled in Roethlisberger's spiral with ease.

 
"I only caught one. I figured I would quit while I was ahead," joked Casey.
Also on hand to watch practice was Pittsburgh Penguins President David Morehouse. Morehouse visited with the Rooney family as well as director of football operations Kevin Colbert during the afternoon practice.
 
 
 
 
 
 
 
 
 

 
* SUNDAY, AUGUST 3*
 
Today was family day for the players, coaches and staff and after a week at camp it was great to see everyone gathered with their families.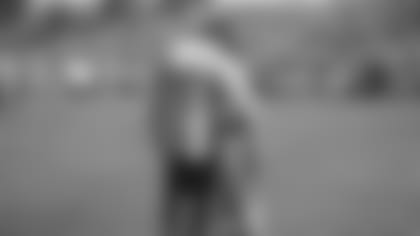 Head coach Mike Tomlin decided to save the goal line drill for family day and it took place in the end of the field where families were gathered in the tent and enjoying watching it.
 
The defense won the drill, and protested when Justin Vincent's run was ruled a touchdown. But Tomlin defended the call, made by team chaplain Kevin Jordan.
 
"You know, I figured that if you put the chaplain on the line you get less beefs and complaints," said Tomlin. "I think it worked out for us. I'm not going to second-guess the chaplain. He said he scored, so he scored."
 
Clem's Barbeque caters the annual event and there is no shortage for delicious chicken and ribs for everyone on hand.
 
After dinner the kids had a chance to play at the Steelers Experience and the players were given the evening off to enjoy time with them.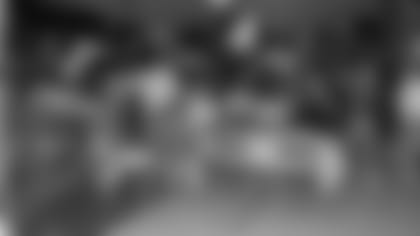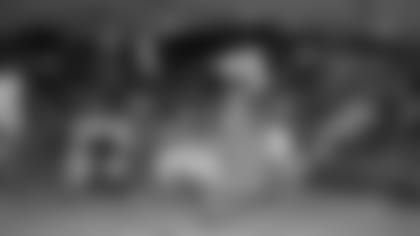 *SATURDAY, AUGUST 2 *
 
 
 
Earlier in the week Kevin Greene was roaming the fields at St. Vincent. On Saturday, two other former Steelers linebackers were doing the same.

Jerry Olsavsky, who is the linebacker coach at Youngstown State, was there with members of his coaching staff observing the practice.
Jason Gildon was also on hand as he is doing a one-week coaching internship with the Steelers linebackers.

"I'm working with Keith Butler and some of the younger guys to show them some small things to help them make the team and make them better players," said Gildon.

Being around the game again makes Gildon miss his playing days, but he is happy in his role as a family man.
"I have been away from the game for awhile, but it does make you miss it," said Gildon. "My wife warned me about coming home with those feelings. I have to leave them up here."
 **FRIDAY, AUGUST 1
**Today is a night practice, so for today's diary I am going to share with you some of the pictures I took the first week of camp.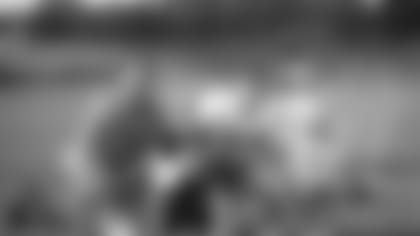 Kids win the chance to carry players equipment.
 

Ike Taylor with his son after practice.
 

A quick refresher for Deshea Townsend.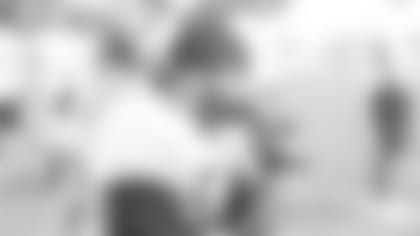 Larry Foote takes a break.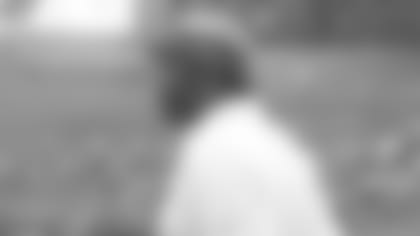 Joe Greene keeps a close eye on practice.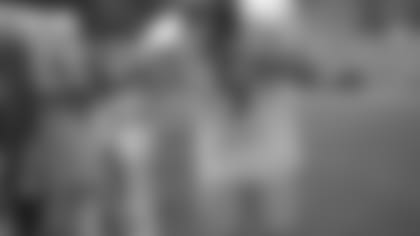 Staying hydrated is a key.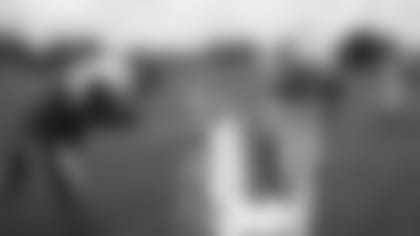 Watching from the sideline.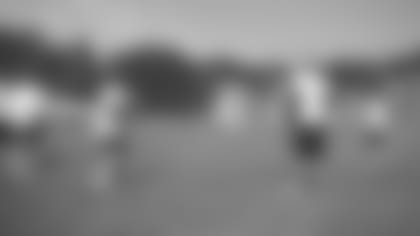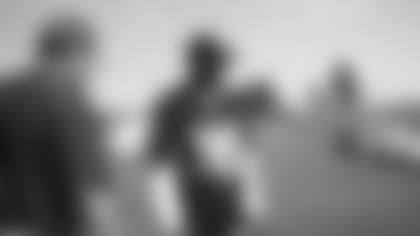 Mike Tomlin is presented a Penguins jersey.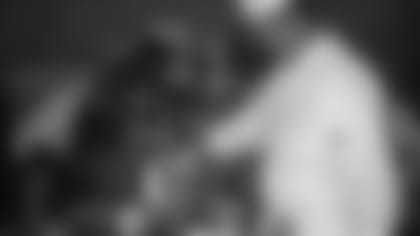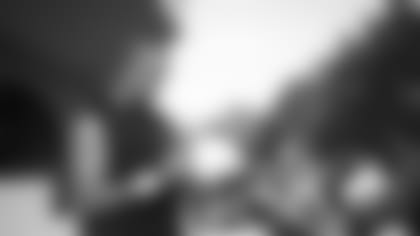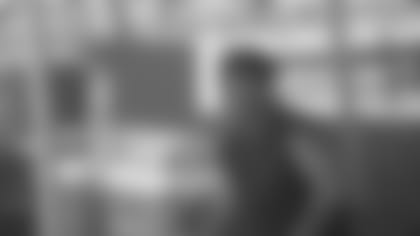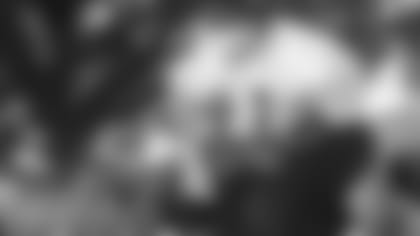 Aaron Smith stays hidden.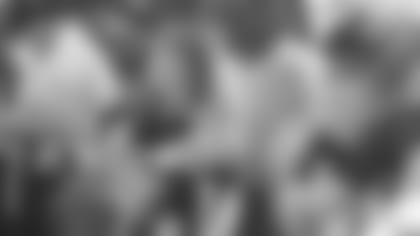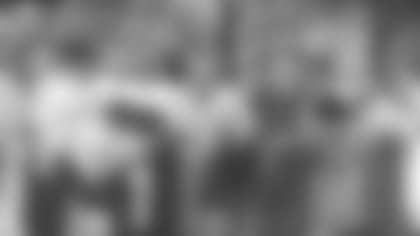 THURSDAY, JULY 31
  
The players got a break this morning with only one practice on tap. Guys were up and about early at breakfast still and it was nice to see Mewelde Moore back feeling better again after fighting off a bug the day before.
 
WDVE, the Steelers flagship radio station, was on hand in the morning and had a constant flow of players appearing on the air with them. One thing about Steelers players, they are cooperative with the media and in the community, which is great to see.
 
Things got busier in the afternoon as the team signed WR/KR Eddie Drummond and he arrived at the camp office area to sign his deal. It was then off to the field for him for his first practice with his hometown team.
 
"I always grew up being a Steelers fan," said Drummond. "Even when I was in Detroit, they were in the Super Bowl. I was at the game going crazy, like a No. 1 Steelers fan. Hopefully, I can end my career here."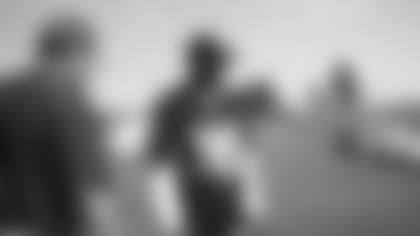 NFL Officials were on hand for the afternoon session as the team went through plays. They make an annual trip to work with the team and meet with the media about rule changes.
Some special groups dotted the sideline as Charlie Batch had a group from his Best of the Batch foundation on hand and spent time talking with them afterwards.
Head coach Mike Tomlin talks to the media after every afternoon practice and when he finished he got a gift from Stan Savran and Fox Sports Pittsburgh – his own personalized Penguins jersey in appreciation for his support of the team all season.
 
 
 
 
 
 
 
WEDNESDAY, JULY 30
Today was the third-straight day of two-a-day practices and guys are feeling it a little bit. They get a bit of a break on Thursday though as it's down to one practice for the day.
During training camp there are often special events that take place and today was Kid's Club Day. The kids had the chance to hear from and ask questions to linebacker LaMarr Woodley, defensive coordinator Dick LeBeau, director of football operations Kevin Colbert and strength and conditioning assistant Marcel Pastoor. There were a lot of great questions, but nothing topped one to Woodley when a youngster asked him: "Do you like bacon?" Woodley was a bit puzzled by the line of questioning, but in case you want to know – yes he does like bacon. LeBeau got the kids fired up by leading them in a cheer to spell out Steelers at the top of their lungs – something they didn't mind at all.
Two of the team's student trainers taped a few of the kids' ankles and also had a tough task of taping on the bigger patients they have ever had – Steely McBeam.

While the speaking was going on heavy rains fell outside, but as soon as they were done it was off to the field with dry skies for the kids. When they got to the field head coach Mike Tomlin came over and was greeting by chants of "Here We Go Steelers, Here We Go." Tomlin welcomed them and thanked them for being so supportive of the Steelers. The day wrapped with a tour of the locker room before the kids had the chance to go to Steelers Experience with their parents.
 
The rain thankfully held off for the entire practice, but near the end the skies opened up and the downpour came. Many got pretty wet from the rain, myself included. At least it didn't last too long though.
 
At dinner there were more rookies than usual up singing, including Limas Sweed and Tony Hills, who didn't get rave reviews for the Texas fight song but Hills helped the duo rebound with his vocal skills while Sweed had the dance moves down. Also on tap singing were Rashard Mendenhall, Dezmond Sherrod and Patrick Bailey.

 The morning practice was definitely a hot one, and things only got hotter as temperatures rose all day and the sun never went away.  
But that didn't mean there weren't some fun moments.
 
In the morning session, which was devoted mostly to special teams, the quarterbacks got into a little contest that they have where they throw a ball into a targeted area on a net. You get a point for hitting the target, but lost points if you miss the net all together.
 
Ben Roethlisberger and Charlie Batch were neck-and-neck throughout and had a three-throw shootout at the end. Roethlisberger didn't hit on his, with one going over the top of the net. Batch stepped up and won the drill and the bragging rights for the day.
 
A tradition at training camp is to have rookies get up on a wall in the cafeteria and sing in front of their teammates, staff and others who are there.

Defensive lineman Jordon Reffett was on the hot seat today but got them going when he sang Friends In Low Places. One thing is for sure, the rookies don't want to embarrass themselves when it's their turn.
 
The big news at the afternoon practice was the injury to Daniel Sepulveda, which you can read about on steelers.com.
 
MONDAY, JULY 28

Camp truly got underway today as the Steelers held their first two practices of the season. There was a morning session, but things really livened up in the afternoon, the first session opened to the public.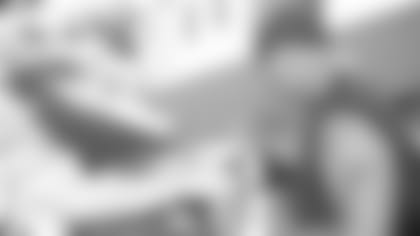 St. Vincent College campus opens at 1:30 pm for fans attending camp and there is a line waiting to get in. When the guards give the go-ahead it's like the running of the bulls as fans take off up a hill to get a prime spot for autographs. And for those who made that run and waited it out most of the day, it paid off. Plenty of players stopped and signed, but none longer than safety Ryan Clark, wide receiver Hines Ward and quarterback Ben Roethlisberger.

"It might be the only time the fans get the chance to get this close and try to get an autograph," said Roethlisberger, who gave away his signed wristbands and shoes to kids before calling it a day. "It takes some time, but I try to do it for them because I think they like it and enjoy it."
 
 
The noise was deafening as fans tried to get the players attention and they seemed to enjoy themselves as much as those who were getting their jerseys and footballs signed.
 
"It's the opening day of camp and the anticipation of football season," said Ward. "A lot of us like to stay out a little later today even though it's a long day. They just want to get their favorite players autograph. We might not be out there like that every day because some days you are exhausted, but opening day you have to give a little extra."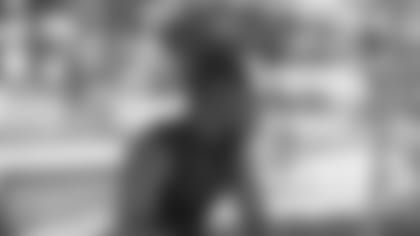 On the sidelines there were a few familiar faces as former linebacker Kevin Greene is in camp working with the linebackers. Former center Jeff Hartings also was a visitor, watching practice with his two young sons and the group he attended with from the Urban Impact Foundation.
 
"It brings back a lot of memories," said Hartings. "I wish I could be back out on the field."
 
One guy who was easy to spot out on the field before he put his helmet on was wide receiver Nate Washington, who is now sporting a Mohawk.
 
 
"It's something new," said Washington. "I am trying to change things up. It's a different look. Somebody suggested it to me and I took them up on it. I have had it for about a month now."
 SUNDAY, JULY 27
With players set to start checking in to camp around noon it was off to St. Vincent early today to get checked in to the dorms and be ready to go. For those of you heading to camp don't forget on the weekends there is likely to be work being done on 376 East, so check the construction schedule before you head out. I know I made an early departure and beat the traffic, but many arriving later to cover camp said that traffic was a bit heavy.

If you have been to camp before then you are going to want to check out the directions on steelers.com on the 2008 Training Camp page for a bit of a change. There is construction on campus so if you are coming out Route 30 East you are going to turn a bit sooner than you are used to. Don't sweat it, though. Enjoy the scenic ride and you will wind up at the fan parking lot just fine.
 
It was still quiet on campus when I got there so that gave me time to get set in my room. There are always those last minute things, so it was off to pick up a few necessities to make sure the television and all other electronics work just fine.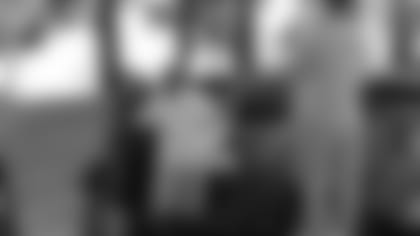 The cafeteria was still quiet with just rookies who either arrived on Saturday or early Sunday enjoying the brunch. It won't be that way for long though.
 
It wasn't long, though, until SUVs started to pull up to the dorms and the players unloaded their luggage and then some. There were computers, televisions, pillows, comforters and so many came in carrying Guitar Hero most of us lost count.
"I just brought my TV so I can watch NFL Network and Law and Order," said linebacker LaMarr Woodley.
Marvel Smith had his hands full checking in, but when he went to move his car he didn't mind spending a few minutes to show off pictures of his two-month-old son and said he is looking forward to getting daily photos sent to him from his wife Kelli during camp.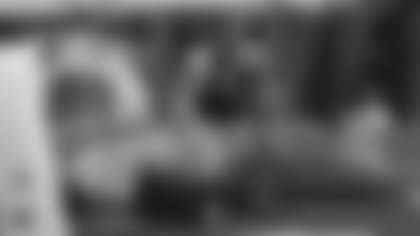 Jeff Reed's entrance to camp was anything but subtle as it looked like he was driving the front end of an 18-wheeler.
"I figured it would be something funny to do for camp," said Reed. "That's the kind of guy I am, do something stupid. You wouldn't expect a kicker to drive something like that."
Reed said the size of the vehicle made for an interesting ride through the construction zones on 376 East.
"You run over the construction cones like I did," said Reed. "I had a hard time going through Monroeville. I never drove anything that big. It's supposed to pull a horse but today it just pulled me."

Wide receiver Hines Ward hopped out of his truck and approached the awaiting media looking like one of them as he had a camcorder recording everything.
"I am working with NFL Network," said Ward. "I am behind the scenes in training camp. They are doing 32 teams in 32 days. So this is the Steelers cam."
After checking in many of the players did just what I did, headed out to pick up some things they forgot and came back with their hands filled with K-Mart bags. A few others ran out for something even more essential – some fast food.
All players were checked in safe and sound before the start of the conditioning test (which you can read about on steelers.com).