Steelers Chairman Dan Rooney attended the Penn State-University of Central Florida game on Saturday in State College to help launch the Croke Park Classic. The game will be played in Aug. 2014 in Dublin, Ireland between Penn State and UCF.
Rooney participated in the coin toss along with Páraic Duffy, Director General for the Gaelic Athletic Association. The winning team of next year's Croke Park Classic will be presented with the Dan Rooney Trophy, named after Rooney, the former U.S. Ambassador to Ireland.
"I really didn't understand why they wanted to name the trophy after me," said Rooney. "I told them I didn't deserve to have the trophy named after me and that they should get someone who was Irish. But they told me they definitely wanted me because they were playing American football. It means an awful lot to me."
Rooney had worked to bring NFL football to Ireland, but is thrilled that college teams will be playing there.
"I really tried to get the NFL to play the games, but they're now sort of committed to London and continue to a play a number of games there," said Rooney. "But as far as the athletes and the games themselves, I think it will be very successful there."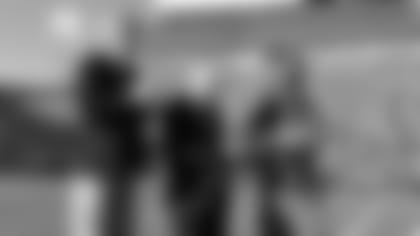 Photos courtesy of Penn State Athletic Communications.