By Teresa Varley
Steelers.com
Safety Ryan Clark figured if the media was going to honor him with The Chief Award, then he might as well just go ahead and start his own press conference.
So the affable Clark wandered into the media room at the team's practice facility at the UPMC Sports Performance Complex, stood at the podium and just started talking.

Clark joked with those gathered that when he was with the Redskins the player that won a similar award was never around the next year and he wished they wouldn't have voted for him.

But with all kidding aside, he was honored that the Pittsburgh Chapter of the Pro Football Writers of America presented him with the award, presented annually to the member of the Steelers' organization who best exemplifies the spirit of cooperation with the media, which was established in honor of Steelers founder, Arthur J. Rooney, Sr.
"This being The Chief award and what he has meant to the organization, the city and to football and the NFL in general, it's an honor to win the award," said Clark. "To win this award is a big honor."
Clark, who is in his seventh season in the NFL and his third with the Steelers, is second on the team in tackles with a career-high 101, including some of the hardest hits delivered by any of the team's defenders.
Not bad for a guy who missed a big chunk of time last season after an enlarged spleen forced him to have season-ending surgery and some serious health issues.  

"When you go through the things I went through it puts it into perspective," said Clark. "You learn every play can be your last. Why not enjoy it. It's a blessing. It's made football more fun.

"I am just having a good time and am excited about the team success. I am enjoying the game again. It's not as much work as it has been in the past."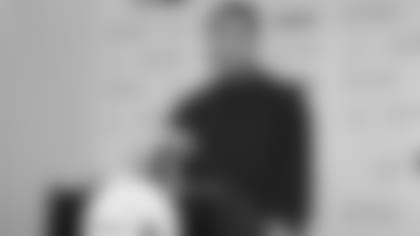 Linebacker Patrick Bailey was also honored by the Pro Football Writers when he was selected as the 2008 recipient of the Joe Greene Great Performance Award, presented to the team's rookie of the year.
"I am definitely honored to receive this award," said Bailey. "There have been so many great players here and I am just happy to be a part of it. I just want to say thank you to the Pittsburgh Steelers for giving me an opportunity because there weren't that many that were going to give me it, and they gave me a shot."
Bailey signed with the Steelers as a rookie free agent out of Duke following the draft, but was waived prior to the start of the season and signed to the practice squad. He was placed on the active roster the third game of the season and played against the Eagles and Ravens. He was released the following week because injuries created a need at other positions, but was re-signed to the practice squad for two weeks and then activated before the Giants game. He has remained on the active roster since then.
Bailey has been a pleasant surprise on special teams, ranking third in tackles on that unit with 12. And he is enjoying every one of those tackles.

"I have always been kind of a wild kid; I love running down the field," said Bailey. "Just to go out and to sprint, that is just me being me. My coaches saw that in high school and they said that they were going to move me over to defense; and we are going to try you in pole vault. They saw it in me, and it is me."
Bailey has been an integral part of the vast improvement the Steelers kick coverage units have made this year and he enjoys that aspect of the game.
"It is fun," said Bailey. "You are running down there and you have tunnel vision to see the ball. You are just trying to get there as fast as you can; move those legs as fast as you can."

While some players might have sweated it when they were cut, Bailey definitely had a back-up plan. He earned his engineering degree at Duke and knows what it means to have that to fall back on.
"My dad really believed in education. He is an electrical engineer," said Bailey. "Growing up, he always made sure that I took care of academics. Football was always like 'well you did good in school, so I am going to let you play football.' I have always said that I love playing football, but I am glad that I got that degree."