While many rookies will have to wait it out until training camp to meet their new teammates, including the rest of their draft class, Antoine Brooks has a bit of an advantage in that he already has met at least three of the six players the Steelers selected in the 2020 NFL Draft.
"I am ready to work, and they look ready to work," said Brooks, the safety the Steelers selected in the sixth round. "They are hungry and ready to play NFL football. I can't wait to work with Chase (Claypool), go against him in some one-on-one workouts and be ready.
"I met a couple of the other rookies before. I trained with a few of them. I met some at the Senior Bowl.
"And then Anthony (McFarland) is my brother. I have always been with him."
Yes, Brooks and McFarland, the running back selected in the fourth round, might as well be brothers because they are as close to family as you are going to find. The two were teammates at the University of Maryland, but their relationship started well before that.
"It means a lot that we are both still going to be on the same team," said Brooks. "He is like a big brother to me because he is older. But we are both like big brothers to each other. We make sure the other is good. We always check on each other. We will do that forever. I will always make sure he is okay, make sure we are okay.
"We have been talking to each other, keeping up on each other, checking on each other. He makes sure I am on all of the calls we have. I am making sure he is on all of the calls. We make sure we both get the emails, that we are getting the information sent to us. We are always making sure we have our stuff right and doing what we have to do. That is the best part about having your brother right there with you, he is always looking out for you."
Their friendship goes back to their little league days, around 10 years ago when they started to get to know each other. It developed during their time playing high school football in the DMV area, then on to Maryland, and now it is continuing in the black and gold.
"It was always a brother thing. We wanted each other to get better," said Brooks. "We want to make each other the best. I could get better every day by catching him when he was juking. He could get better every day by juking, getting ready for a defender to tackle him. We do those things every day. In games I would want to make sure on defense I helped get the ball back for him so he could run for a touchdown. Make sure I could turn it over. Anthony is a hyper dude. It is just a competitive thing. We go against each other on offense and defense, we don't let them score and get competitive. It was a blessing to have a competitive teammate like him that was there every day 100 percent ready to go.
"I feel like we always knew each other. I knew him for a while. It's just more to come. We are both with a great franchise. I can't wait to get back to the way we were and working together again. I can't wait."
While Brooks is waiting, he is making sure he is doing all of the right things to be prepared for when football activity returns.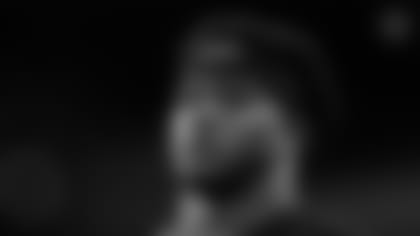 "It's been kind of weird everything being virtual," said Brooks. "I just take it as another way of getting myself ready to go. When I get there, I will be fully ready. I can't wait to show everything I have to my teammates. I can't wait to say hi, smile, when I see my teammates the first time. It's a new beginning.
"Until then I am always working. I go to open fields in the area where there is space, stay in the sand pit, wear a weighted vest, stuff that just keeps me going."
And after talking to him for a few minutes, it doesn't seem like it takes much to get him going. He is a bundle of energy, a go-getter, and someone who you can tell right off the bat has a passion for the game.
"I love playing, and I love being physical," said Brooks. "A lot of people are afraid of being physical. It's leaving the game some. I want to bring it back. That is just me, though. On the field I can do whatever. It's football. That is where I take everything out. Football is fun. When I have emotions, football is where you take it out. That is where all of the hype and energy come from, when I play the game.
"When I make a hit, it feels amazing for me. It's another stepping-stone to try and win the game. It's a statement. I am coming hard every time. People are going to come hard at you, but I am coming harder. My motor doesn't stop. I am a physical guy and I will keep that going the whole game."
Brooks finished the 2019 season as the Terps leading tackler with 87 stops, including 69 solo stops, and added eight and a half tackles for a loss and five pass defenses. Those numbers stemmed from having good instincts, something that he says he got from his mother.
"She has great instincts. She knows when I am upset or something," said Brooks. "I mean most moms have that, but my mom is really good at it. I would have a day when I am at school and I am having a moody day, I am just sitting in bed and don't want to do anything. She would call me and say what is wrong. I would be like, how do you know something is wrong, I didn't text you or call you. She just knows I am moody.
"My instincts allow me to see right, see left, play fast. See plays coming up next. See what this quarterback likes to do. When I watch film, I can see tendencies and feel it in the game."