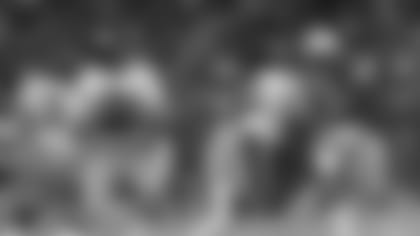 Another in a series of stories chronicling the 52 playoff games in Steelers history.**
This time, there was nary a discouraging word. No suggestions that the Pittsburgh Steelers were a fluke, a one-year wonder that comes along every once in a while in every professional sport. Going back-to-back ends that argument, even in Oakland.
At the conclusion of its 1975 season, the National Football League had staged 10 Super Bowls, and Steelers were one of three franchises to have won the championship back-to-back. There were the legendary Green Bay Packers, who had won the first two Super Bowls on the way to three straight titles in the late 1960s; the Miami Dolphins, who had won the first of their two Lomfbardi Trophies by going undefeated; and the Steelers.
Back in 1972, because of the 40 seasons of losing and the Immaculate Reception and all, a quaint, quirky quality to the way the Steelers were going about their business had developed. The whole loveable-loser-makes-good theme had charmed many an observer, but as the country was in the very early stages of its bicentennial year of 1976, the rest of the NFL had come to see these Steelers as anything but charming. As the league got ready to do business in 1976, the Pittsburgh Steelers owned the best and most physically punishing team in professional football, and those who didn't fear them hated them.
"When you win, they don't like you. When they beat your butt, you're one of the good ol' boys down the block," said Noll on Feb. 12. "We play hard, clean football. Some people think that any time you hit hard, it's dirty. That's not so."
By the time NFL teams reported to their training camps in July to begin preparing for the 1976 season, the Steelers had slogged through some of the inevitable distractions that come to two-time defending champions, but they seemed to be united in the goal to make history as the first team to win three straight Super Bowls.
As usual with teams in this situation, there were some issues with players, some amusing, others troubling, others related to unhappiness over roles and the paychecks that came with those roles. Terry Bradshaw married figure skater Jo Jo Starbuck, a pairing that was the Eva Longoria-Tony Parker of its time, and there were lots of photos of one lovingly watching the other compete. Bradshaw also was in talks to star in a 13-week television series, while he was on tour as a country & western singer. "I'd like to turn to my singing career when the time is right and when I can make enough at it to support my ranch the way I am now," is what Bradshaw said then. He laughs about that now.
Joe Gilliam had gone from being the team's starter when 1974 began to a player who was unreliable, prone to unexcused absences and dogged by a persistent suspicion of drug abuse. A career that had seemed so promising just two years earlier was on the fast track to disaster.
And Steve Furness made it clear he had no plans to be Joe Greene's backup for another season. Furness had played well in 1975 while Greene was hampered by neck and groin injuries. "I like to think I've earned a starting job. I think I should be the starting defensive tackle until Joe (Greene) beats me out. I'm looking at it this way. This is my fifth year, and if they want me to sit the bench, I'd rather go somewhere else. I'll ask to be traded if Joe comes in and plays the rest of the year."
To combat this, the Steelers had Chuck Noll and Dan Rooney. Noll handled the players, with an example being that Joe Greene started every game at defensive tackle and Steve Furness was back to being a utility player, and Rooney handled everything else, with an example being why the cover of the team's 1976 Media Guide bore no photos of Lombardi trophies and made no mention of the Steelers as defending champions. "We've made an effort to see that the trophies have been displayed in public around the area so the fans can get a chance to see them," said Rooney, "but our thinking is that everybody knows we've won, so we don't have to announce it. We like to keep a low profile, and I think that it blends with my personality and Chuck's personality."
All in all, though, it was a rather tame offseason, and the only thing especially noteworthy to come out of a training camp and a preseason in which the Steelers went 5-2 was that Noll decided to keep only two quarterbacks – Bradshaw and rookie Mike Kruczek – on the roster, the first time in Noll's tenure where he didn't keep three.
The regular opener was set up to attract maximum attention to the NFL at the start of the season – Steelers at Raiders – and everybody in the league office admitted as much. And what a game. The Steelers build a big lead, but the Raiders came back with 24 points in the fourth quarter to pull out a 31-28 win. "I've never been so far behind a team so good and come back to win," said Raiders quarterback Ken Stabler.
To a man, the Steelers didn't seem to be damaged mentally following this loss, but it did turn out to be the start of one of the strangest five-week periods in team history.
The Steelers returned home and handled Cleveland the following week, but then came a 30-27 loss to the Patriots at Three Rivers Stadium. The team was 1-2 but the players remained defiant. "This is still the best damn team in professional football," said Greene. "I'll tell you that at the end of the year, and you'll believe it then, because the evidence will be there."
The next weekend, after a 17-6 loss to the Vikings in Minnesota, the weight of losing was becoming harder to bear. Greene said, "I don't have any thoughts anymore. I'm losing them. All I can do is look at myself and try and get Joe Greene together. I don't even want to entertain any other thoughts. Maybe that's one of the problems. Maybe we've been entertaining too many other thoughts already. But it sure doesn't feel good. It doesn't feel good."
Then the Steelers unquestionably hit bottom the following weekend, when they lost a game and their starting quarterback in Cleveland to the Browns when Joe "Turkey" Jones spiked Bradshaw into the Cleveland Stadium turf. Years later, a magazine in Cleveland would refer to that as "one of the 10 greatest moments in Cleveland Stadium history," but at the time Jones was repentant. "If we have to be in this position," said Greene about 1-4 with nine games to play, "all I can tell you is I'd rather be in it with this team, with these people, and particularly with the man running it."
The man running it was Noll, and that he was able to right this ship without the slightest hint at mutiny was an amazing feat of coaching on the professional level. Left with Kruczek the rookie at quarterback of a team that was on the ropes, Noll turned to his defense and running attack to stabilize things, and the players were up to the challenge.
After the loss in Cleveland, the Steelers would run the table on the rest of their regular season, and their dominance in those games was frightening. During those nine wins, the Steelers posted five shutouts and allowed a total of 28 points. They had five sacks in a 27-0 win over the Giants; they allowed only seven first downs and had five takeaways in a 23-0 win over San Diego; it was six more takeaways and 34 rushing yards allowed in a 43-0 win over Kansas City. In a 42-0 rout of Tampa Bay, they allowed only 11 net yards passing and eight first downs; and in a 21-0 victory in Houston, the Oilers finished with more punts than first downs, 11-9.
When the Steelers defense left the field, their running attack was just as scary. It was 201 rushing yards against Cincinnati; 230 vs. the Giants; 255 against San Diego; 330 vs. Kansas City; and 258 against Don Shula's Dolphins. Over the last nine games, the Steelers failed to rush for over 200 yards only once – when they managed 143 against the Houston Oilers at Three Rivers Stadium, but they avenged that by rolling up 258 in the rematch in the Astrodome on the final week of the regular season. During the nine-game winning streak, the Steelers rushed for 2,101 yards and averaged 4.5 yards per carry; they had 33 rushing touchdowns on the season and allowed only five.
When their nemesis, the Raiders, defeated the Bengals in the penultimate game of the season, the Steelers got into the playoffs where they would face the skeptical Baltimore Colts in the AFC Divisional Playoffs. "Look who they've played. Except for Cincinnati, they haven't played any winners," said Colts offensive tackle David Taylor. "They haven't played anybody like the Colts. They haven't played the No. 1 offensive team. Now they have to deal with us."
The Colts would be at home for this AFC Divisional Playoff, and they came into it with the league's No. 1 offense, and with a defense that had posted 56 sacks and 36 takeaways in 14 games. Still, it was no contest.
On the third play of the game, a third-and-8 from their own 24-yard line, the Steelers replaced tight end Larry Brown with John Stallworth to create a three-receiver, two-back set that forced the Colts to use safety Jackie Wallace in single coverage on Frank Lewis. Bradshaw threw a perfect pass, and it was 6-0 after Roy Gerela missed the extra point. "We may have lulled them a bit," said Noll. "They've seen us do nothing but run the ball. This was a new experience for them."
And it got worse for the Colts. On the next series, Mike Wagner intercepted Bert Jones, and Gerela kicked a 45-yard field goal for a 9-0 lead. The Colts came back to score a touchdown to close to 9-7, but then Theo Bell returned the ensuing kickoff 60 yards, Reggie Harrison scored from the 1-yard line six plays later, and it was 16-7.
After a three-and-out by the Colts, the Steelers drove to the 2-yard line, when Harrison lost a fumble. No problem. After another three-and-out by the Colts' No. 1-ranked offense, Bradshaw hit Lynn Swann for a 29-yard touchdown, and it was 23-7. It was 26-7 at halftime, and Franco Harris already had over 100 yards rushing.
The final was 40-14, and the Steelers offense converted 90 percent on third down and rolled up 526 net yards, while their defense slapped around that No. 1-ranked offense by sacking Jones five times and intercepting him twice. Franco Harris had 132 yards on 18 carries in less than three quarters, and Lynn Swann, Frank Lewis and John Stallworth combined to average 23.5 yards a catch.
"It was one of those games where I knew I really needed a good one," said Bradshaw, who finished 14-of-18 for 264 yards and three touchdowns for a passer rating of 158.3. "I told myself to forget about everything that has happened this year. I had to convince myself that I'm gonna get hurt once in a while and not worry about it. I had to go out there and just let my physical ability go to work. Right off the bat I felt real good."
Yessir, the Steelers had to be feeling real good … until they peeked into their training room and saw the medical staff working on Franco Harris' ribs, Rocky Bleier's toe and Frenchy Fuqua's calf. Would the team have any healthy running backs for the AFC Championship Game?
Lewis 76 pass from Bradshaw (kick failed)
Carr 17 pass from Jones (Linhart kick)
Harrison 1 run (Gerela kick)
Swann 29 pass from Bradshaw (Gerela kick)
Swann 11 pass from Bradshaw (Gerela kick)
Leeks 1 run (Linhart kick)
Harrison 10 run (Mansfield kick)