If you have seen Charlie Batch recently there is one thing you will quickly notice.
He has been smiling a lot. A whole lot.
Charlie and Latasha Batch have dedicated so much time over the past 20 years to giving back to the kids in the community where he grew up, and now he can serve even more after the groundbreaking of the new facility for the Best of the Batch Foundation. Batch was joined by Steelers President Art Rooney II and racing legend Chip Ganassi, who co-chaired fundraising efforts, as well as Maurkice Pouncey, Ramon Foster, Max Starks and Assistant Head Coach John Mitchell at the groundbreaking in Munhall, right by Batch's hometown of Homestead, Pa.
"It's one of those surreal moments," said Batch. "We have been talking about it for years. There has been a lot of planning involved to get to this point. Now to get to the point of the actual groundbreaking, it was a challenge but it's something I commend Latasha for staying on and her grind, making sure this all happens."
For the past 20 years the foundation has operated out of a 5,000 square foot facility. Now they are building a 21,000 square foot state of the art educational facility that will open in the Spring of 2020 and allow them to serve even more kids.
"We were busting out at the seams," said Batch. "We used every available space. To have a physical building and our storage unit be able to be in the same place, it will be amazing."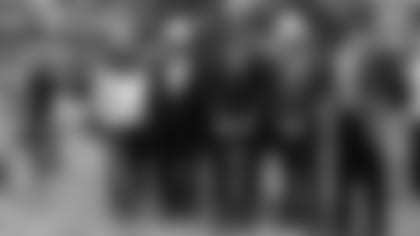 The foundation is currently serving 3,800 kids from eight counties with plans to expand that number to 4,000 right off the bat. They have 1,100 walk through the doors every year, with others served through their programs.
"We are able to expand our STEAM programs, making sure the kids are able to take advantage of everything," said Batch. "We can expand the labs and focus on reading and computer literacy. That will shape our kids into future leaders.
"We take this on as a challenge. We are trying to provide them resources they may not have. Something as small as internet that we take for granted, some of the kids don't have it. They have to walk into our building to do their homework. We know the challenges they face. We are also trying to introduce them to new things as they go out and try to make their way in the world."
The new facility, affectionately nicknamed "The Clubhouse," will allow the foundation to continue to help those who don't have access to a Boys & Girls Club or YMCA type of facility for after school programs. They will expand their mentoring, tutoring, computer lab, STEAM and behavioral programs, as well as find new ways to help local youth.
"Everything in the building the kids are excited about," said Batch. "When we look at this building, this is mine and Latasha's legacy that kids can take advantage of. Sports aren't for everybody. This is something kids and families can have."