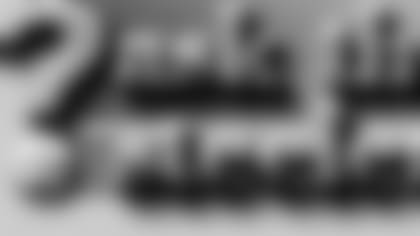 ASK THE STEELERS - FOURTH-ROUND DRAFT PICK TONY HILLSSteelers.com is now accepting questions for Ask The Steelers, a feature where fans get to email in questions for selected Steelers players and we take them to the players for their answers. The player(s) listed below are the only ones we are currently accepting questions for.
Only one question per person - please do not ask multiple questions in your email.
We will select the questions from all of those submitted. More players will featured throughout the next month.
To submit your question please please click on this link and send an email to:
Your name - First and Last
City and State
You must be at least 18 years of age to submit a question.
Please send in questions only for the player(s) listed above.
BIRTHDATE – November 4, 1984
BIRTHPLACE –Dallas, Texas
HOW ACQUIRED –D4-'08 (#130)
PRO: Drafted by the Steelers in the fourth round (130th overall) of the 2008 NFL Draft out of Texas…was the second of two Longhorns drafted in the first four rounds of the 2008 NFL Draft by Pittsburgh, joining second-round wideout Limas Sweed.
COLLEGE: In 24 games starting at left offensive tackle, graded 83.21 percent for blocking consistency on 1,681 snaps…registered 131 knockdowns with 17 touchdown-resulting blocks, as he allowed just four quarterback sacks and seven pressures on 743 pass plays. 2007: Earned All-American first-team honors from the Walter Camp Foundation…member of the Lombardi Award and Outland Trophy watch lists…All-Big Twelve Conference first-team pick by the league's coaches and media…voted team captain and named to the American Airlines D.X. Bible Most Team Spirited squad…selected UT's Outstanding Offensive Linemen and received the D. Harold Byrd Leadership Award…Dr. Nasser Al-Rashid Strength & Conditioning Award recipient…started the team's first 11 games at the left offensive tackle position, grading 84.82 percent for blocking consistency, as he delivered 68 knockdowns with 10 touchdown-resulting blocks, as he allowed just one quarterback sack and three pressures…was penalized three times (twice for holding, once for a personal foul)…the offense averaged 471.5 yards per game in total offense and 265.2 yards passing with Hills in the lineup, as the front wall allowed just 19 sacks in those  11 contests…in the two games with Hills sidelined (left leg/fibula fracture), the offense gave up six sacks and averaged just 201.5 yards passing and 415.5 yards in total offense. 2006: All-Big Twelve Conference honorable mention…earned a spot on ESPN's All-Mayday Team for being one of college football's "Toughest of the Tough"...recipient of the team's Most Improved Offensive Player Award…started all 13 games at left offensive tackle, grading 81.85 percent with 63 knockdowns and seven touchdown-resulting blocks...led the way as the team gained 162.6 rushing yards per game (34th in the NCAA), 391.5 total yards per game (23rd) and 35.9 points per game (seventh). 2005: Played in 11 games as the top reserve behind Jonathan Scott at left offensive tackle…was part of a line that helped Texas rank first in the nation in scoring offense (50.2 ppg.), second in rushing offense (274.9 ypg.) and third in total offense (512.1 ypg.)…helped clear the way for Texas to set school single-season records in both points scored (652) and total yards (6,657)...Texas' 652 points broke the 22-year old NCAA record of 624 points set by Nebraska in 1983...UT's 50.2 points per game average marked only the fifth time in NCAA history that a team finished the year averaging over 50 points per game...Texas was the first team since Nebraska in 1995 to score 50 points and post 500 yards per game in a season...the offense's 3,574 rushing yards were the fourth-most in school history...UT's six 300-yard games matched its total last season, which was the most since 1977. 2004: Appeared in seven games on offense and special teams...competed for playing time as the primary backup at left tackle...helped the offensive line clear the way for Texas to rank second in the nation in rushing (299.2 ypg.), seventh in total offense (464.4 ypg.) and 18th in scoring (35.3 ppg.)...Texas' 3,590 rushing yards is the third-highest single-season total in school history...UT registered six 300-yard rushing games, the most since 1977. 2003: Was granted a medical hardship, spending the season recovering from 2003 knee surgery…majored in liberal arts.
PERSONAL: Attended Alief Elsik (Houston, Tex.) High School, playing football for head coach Bill Barron…three-year starter as a tight end…twice earned All-Greater Houston and All-District honors…Parade All-America selection who added Class 5A third-team All-State recognition as a senior…second-team all-state choice during his junior campaign…averaged 17.9 yards on 28 receptions his final two seasons…as a senior, caught 15 passes for 275 yards for a team that reached the 5A Division I semifinals, but sustained a serious left knee injury in the first half of that contest…totaled 13 receptions for 227 yards and a touchdown as a junior…before giving up basketball prior to his freshman year, had earned a spot on the U.S. Junior National team…active in UT's community service program, where he is part of a group of Longhorns that regularly visits patients at the Austin Children's Hospital...participated in the Children's Miracle Network Telethon as a phone operator...active in Houston community service projects through his church and performed volunteer work with children...Full Name: Anthony Tremaine Hills.