In the first three installments of 2010: The season in review, the Steelers had put the events of an embarrassing offseason behind them, and they had emerged from training camp and the preseason as team focused on playing winning football. But that didn't mean things were going according to plan. After months of meetings, on-field practice sessions and three preseason games were used to establish the pecking order at quarterback during Ben Roethlisberger's suspension, interim starter Byron Leftwich sprained a knee in the preseason finale.
Part IV looks at the first half of the 2010 regular season.
Sept. 4: There are three quarterbacks on the 53-man roster the Steelers will utilize to open the 2010 NFL regular season – Byron Leftwich, Dennis Dixon and Charlie Batch – and Ben Roethlisberger's suspension is reduced to four games. In another interesting roster-related move: veteran Justin Hartwig is released, which means rookie Maurkice Pouncey will be the starting center on opening day.
Sept. 6: The suspense is over. The sprained knee that Leftwich sustained in the preseason finale won't allow him to play, and so Dennis Dixon is named the starting quarterback for the opener against the Atlanta Falcons at Heinz Field.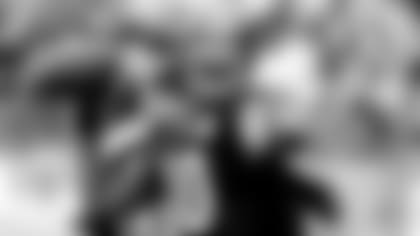 Sept. 12: The Atlanta Falcons' high-powered rushing attack is limited to 58 yards, and Matt Ryan averages 5.7 yards per pass attempt as the Steelers use the running of Rashard Mendenhall and a defense clearly playing with a purpose to post a 15-9 win in overtime in the season opener. The Steelers are 1-0 without Roethlisberger.
Sept. 13: With left tackle Max Starks injured in the game against the Falcons, it appears as though Jonathan Scott will start against the Titans in Tennessee. Seen as a big deal at the moment, this kind of substitution along the offensive line will become less of one as the season progresses.
Sept. 14: When asked a question about it, Mike Tomlin refuses to "guarantee" that Roethlisberger will be the starting quarterback when his suspension ends, and he explains why. "In order for us to see our way out of this situation, I think it's important that we have a one-foot-in-front-of-the-other mentality. We need to be singularly focused on what's in front of us every step of the way. That's the only way we're going to work through this situation. As a leader of the outfit, I'm going to subscribe to that as well. So I refuse to ponder the potential or the hypothetical scenarios that wait for us at the end of this situation. I'm in the midst of it; I'm living it like our football team is living it. I refuse to address any other element of it other than what we have right now, which is a Tuesday. We're preparing as a staff for the Tennessee Titans."
Sept. 15: It's an issue that continues to be brought up regularly. Is the Steelers defense too old? "We're going to let the season speak for us on that," says coordinator Dick LeBeau.
Sept. 19: It starts with a reverse on the opening kickoff that Antonio Brown returns 89 yards for a touchdown, but the day belongs to the Steelers defense. Titans Pro Bowl running back Chris Johnson has his streak of 17 100-yard games snapped, and he finishes with 34 on 16 carries and no will to continue. The Steelers also force seven turnovers in a 19-11 win. They are 2-0 without Roethlisberger, mainly because the defense has been dominant.
Sept. 20: Winning without Roethlisberger takes a backseat to more pressing concerns at the position. Byron Leftwich still cannot play because of a sprained knee and now Dennis Dixon has a torn lateral meniscus, an injury that knocked him out of the game the day before. It's Charlie Batch until Roethlisberger's suspension is over.
Sept. 26: In two games so far, the Steelers offense has scored one touchdown – on a 50-yard run in overtime of the opener – but that changes in Tampa. Batch passes for three touchdowns, two to Mike Wallace, and the defense puts together another smothering performance in a 38-13 win over the Buccaneers. Brett Keisel's 79-yard touchdown return with an interception is the defense's 10th takeaway of the season. It's now 3-0 without Roethlisberger.
Sept. 30: It will be the Baltimore Ravens standing between the Steelers and an undefeated record without their starting quarterback, but as delicious as it would be to accomplish that, beating the Ravens is still beating the Ravens. "They don't come in here wearing a cape," said Ryan Clark. "I'm not scared they're going to take my lunch money."
Oct. 1: The Steelers will be without Roethlisberger, and the Ravens will be without Ed Reed. It's not an even trade, but it's something.
Oct. 3: From the Steelers' perspective, there are a lot of things to hate about losing to the Ravens, 17-14, at Heinz Field. The Baltimore franchise again looks to be their major competition in the AFC North, they are the Ravens after all, and there is a sense afterward that the Steelers gave one away. But maybe the worst is this: Ravens QB Joe Flacco got a chance to experience some late-game success vs. the Steelers and pull out a win for his team in Heinz Field. A confident Flacco has to be a more dangerous Flacco.
Oct. 4: There is some good news to salve the sting of the loss to the Ravens. Ben Roethlisberger's suspension ends and he rejoins the team. In addition, because the Steelers are entering their bye week, there is time for extra practice sessions. Roethlisberger looks great physically, but what he says is better. "There's a lot of great chemistry on this team right now. I'm not coming in trying to be anything more than what I am. Just trying to be helpful, be a teammate and do whatever I can to help this team win football games."
Oct. 12: Mike Tomlin admits that the reception Roethlisberger gets from the fans in his first game back is important. "Of course it matters. We work hard to entertain and please (the fans). They really kind of make us go." But he also predicts the reception will be a warm one. "I really think that's the nature of Steelers Nation."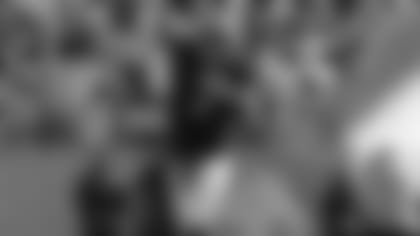 Oct. 17: It's a beautiful day at Heinz Field for the Browns' annual visit, and only part of that has to do with the perfect weather. Roethlisberger returns and throws touchdown passes to Mike Wallace, Hines Ward and Heath Miller, and generally plays like he hasn't been away from the team for a month. The defense dominates another running back – this time it's Peyton Hillis – while recording six sacks and forcing three turnovers in a 28-10 win over the Browns. As the sun sets on Heinz Field, all seems calm in Steelers Nation. But there is a storm brewing …
Oct. 18: … And Hurricane Anderson touches down late Monday afternoon. Ray Anderson, the NFL's prefect of discipline, announces – through the media of course – that the hit by James Harrison on Browns receiver Mohamed Massaquoi is to be reviewed and could be the subject of a fine and/or suspension. That Harrison was not penalized by any of the seven on-field officials working the game apparently is irrelevant. "We're going to take a very proactive look at our enforcement," said Anderson in the wake of a weekend in which New England's Brandon Meriweather and Houston's Dunta Robinson also are cited for hits to receivers. "Suspensions are not off the table, even for first-time offenders."
Oct. 19: The NFL's brand of justice is swift. Harrison is fined $75,000. "They're after me," said Harrison. It's an opinion players on other teams will come to share.
Oct. 20: After reporting for the regular Wednesday morning team meeting, Harrison is sent home by Mike Tomlin in an effort to defuse the volatile emotions of the preceding two days. The fact Harrison is so frustrated as to talk about retirement proves it's the best move for the player, and the team.
Oct. 21: Steelers President Art Rooney II speaks on the issue: "James' play, I think, was a football play. I understand the part about not launching yourself. I think that's the part that was on the borderline. I mean, did he lunge at the guy to make the tackle or did he launch himself. The thing I'm concerned about going forward is the level of discipline and how far we're going with that. And I hope the league office is going to draw a distinction between a flagrant hit, an egregious hit – whatever these words are that are getting thrown around – vs. something that is a violation but is not flagrant."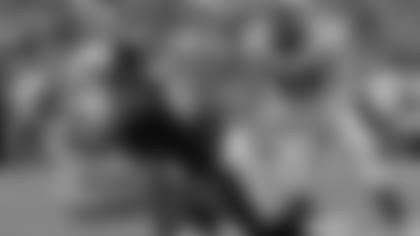 Oct. 24: There is a game at the end of this tunnel, and it turns out to be a weird one. The Steelers end up defeating the Dolphins in Miami, 23-22, on the old "it's a touchdown, no it's a fumble, but since the whistle blew and there was no clear recovery in plain view the ball goes back to the original team" play that set up a Jeff Reed field goal. There also is bad news: Aaron Smith tears a triceps.
Oct. 26: Mike Tomlin says Aaron Smith will not be put on the injured reserve list. "He's going to be out an extended period of time, and at this juncture, we intend to wait that out. Aaron's a quality player, a veteran leader for us. If there's hope for his return, then of course, we're going to be hopeful as long as we can."
Oct. 29: The Steelers are scheduled for a game against the defending champion Saints in New Orleans on Halloween night, and their five natives of the Crescent City – Ike Taylor, Mewelde Moore, Mike Wallace, Ryan Clark and Keenan Lewis – can't wait.
Oct. 31: Lots of strange things happen on Halloween, and New Orleans is a city where strange lives. The Steelers fall behind early, but they battle back to close to 13-10 on Rashard Mendenhall's touchdown early in the fourth quarter. The Steelers are starting to take over the game physically later in the quarter when Heath Miller, running free in the secondary after catching a pass, loses the ball after getting hit. The Saints tack on another score to win, 20-10.
Nov. 3: James Harrison meets with Roger Goodell to appeal his $75,000 fine on the same day Troy Polamalu intimates the commissioner has too much power. "But you know, he's got all the power. That may be part of the problem," says Polamalu, " that there needs to be some separation of power, like our government."
Nov. 4: Harrison is fined again – this time for $20,000 – for his hit on Drew Brees. "I don't know," says Harrison. "It's starting to look a little suspicious now."
Nov. 8: The Steelers conclude the first half of their season with a 27-21 win in Cincinnati that raises their record to 6-2. They are 6-2 during a first half in which they had played four games without Ben Roethlisberger, and the win over the Bengals is clinched when a fourth-down pass to Jordan Shipley is broken up. The stand is significant, because the Steelers lost in Cincinnati in 2009 partly because the defense didn't make a play in a similar situation.
NEXT: PART V – The second half of the 2010 regular season