LATROBE, Pa. - This story is not your typical one that comes out of an NFL training camp.
But it's one Coach Mike Tomlin wants to be sure gets told.
In a society where it's getting increasingly difficult to all come together and agree on something, Tomlin has put his passion, his voice, and his commitment behind a cause that everyone should be in agreement on…ending the horror that is child sex trafficking.
Last year Tomlin reached out to a group called Operation Underground Railroad. He and wife Kiya had heard about what they do, and felt compelled to try and help, in any manner they could.
The group came in to the Steelers practice facility and spent some time with Tomlin in the spring of 2017, and again that training camp and during the season, sharing with the players what it is they do, the missions they go on. The relationship has continued to grow, with the group back in camp again this year.
The story they shared is one of horror. It's one most want to turn a deaf ear to.
But again, it's one Tomlin wants to make sure gets told.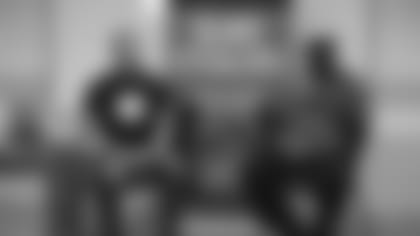 Operation Underground Railroad (O.U.R.) is a group of former law enforcement and Navy Seals who exist plain and simple to rescue children from the horror that is sex trafficking. It's a crime that exists abroad, but don't try to fool yourself, it is prevalent right here in the United States.
Tomlin knew the only way for him to fully understand O.U.R.'s mission, was to be a part of one. In the week leading up to training camp he accompanied them on a rescue mission to Haiti. He didn't go into detail, but it's one that made a lasting impact.
"I had an opportunity to grow immensely with what I have been able to see and hopefully have been able to help," said Tomlin. "Our guys are behind their mission."
Operation Underground Railroad deploys their operators around the world, and the United States, on undercover missions to save the children, rescue them from the torturous lives they have been forced into and bring them back to safety.
"It's in every country, including the U.S.," said Tim Ballard, founder of O.U.R. "Half of our operations are right here."
Ballard said hundreds of thousands of children are forced into sex trafficking in the United States, and 10,000 children are brought into this country as well every year. The U.S. is also part of the problem because of the demand from U.S. travelers abroad.
The numbers are scary, and through the involvement with the Steelers, more eyes can be opened, bringing the problem to a whole new audience, and that is what is needed to help eradicate this.
Ballard just released a book, Slave Stealers, chronicling the battle and some of the missions they have been on. Tomlin wrote the foreword for the book, sharing his passion for all working together for a common goal.
"Can you imagine what would happen to this nation if we could get everyone focused on the cause of rescuing children," wrote Tomlin in the foreword. "Not only would our principal goal of rescuing kids be more readily met, but something else might just happen in the process. Healing. Personal healing. Community healing. National healing."
You might wonder, how can I help, what can I do? It can be the simplest of things. In the world we are now living in, it's so common to hear people say, if you see something, say something. Well, that is the case here. Realistically, you aren't going to witness the ultimate horror. But at times there are signs that something is wrong, things that you might notice, and that is when you have to speak up.
As he said in closing in the foreword, "My name is Mike Tomlin. I'm a Pittsburgh Steeler. And I'm a Slave Stealer."
To learn more about what they do, and more about the book Slave Stealers, click here.