You can draft an eventual Hall-of-Fame player in the third round.
The Steelers established as much beginning in 1970 when they used the 53rd overall selection on Southern University cornerback.
But imagine what might have been if only the third time had proven a little more charming over the years.
In 1949, the Steelers' third-round selection was Bill Walsh (not that one; this one was a center from Notre Dame).
In 1956, their third-round choice was none other than Jim Taylor (a center from Baylor, not the Hall of Fame-bound running back for the Packers).
And the relatively forgettable 1975 draft class apparently began Breaking Bad when the Steelers opted for Walter White (tight end, Maryland) on the third round.
Would you suspect anything less from a franchise whose first-ever pick in 1936 was Bill Shakespeare (a back from Notre Dame, not The Bard of Avon).
This third-round stuff, like any other round, can go either way.
Linebackers Joey Porter (Colorado State, 1999), Mike Vrabel (Ohio State, 1997), Jason Gildon (Oklahoma State, 1994) and Mike Merriweather (Pacific, 1982) were third-round selections (Vrabel went on to have a 14-year NFL run but only played four seasons for the team that drafted him; Merriweather also didn't finish his career with the Steelers).
The Steelers' history with third-round wide receivers includes Ernie Mills (Florida, 1991), Andre Hastings (Georgia, 1993), Hines Ward (Georgia, 1998), Mike Wallace (Mississippi, 2009), Emmanuel Sanders (SMU, 2010) and Diontae Johnson (Toledo, 2019).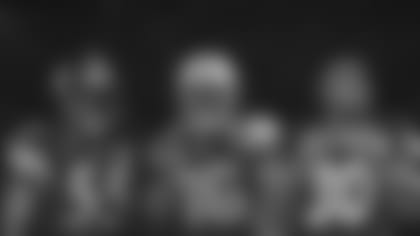 And quarterbacks Bubby Brister (Northeast Louisiana, 1986) and Neil O'Donnell (Maryland, 1990) both arrived as third-round additions, as did current backup Mason Rudolph (Oklahoma State, 2018).
Third-rounders who made significant if not spectacular contributions as Steelers included safety Chris Hope (Florida State, 2002), offensive tackle Max Starks (Florida, 2004), offensive tackle Trai Essex (Northwestern, 2005), tight end Matt Spaeth (Minnesota, 2007) and nose tackle Javon Hargrave (South Carolina State, 2016).
There have, likewise, been third-round swings and misses, such as defensive back Anthony Smith (Syracuse, 2006), running back Dri Archer (Kent State, 2014) and wide receiver Sammie Coates (Auburn, 2015), to name three of recent vintage.
Current Steelers who got their start as third-rounders that are still writing their stories include Rudolph, running back James Conner (Pitt, 2017), defensive back Cam Sutton (Tennessee, 2017), offensive tackle Chukwuma Okorafor (Western Michigan, 2018) and cornerback Justin Layne (Michigan State, 2019).
The franchise might always wonder what might have been had third-round linebacker Sean Spence (Miami, 2012) not suffered a horrific knee injury in his rookie training camp.
But in Steelers' history, at least, it hasn't always required a bronze bust in Canton for a third-round selection to achieve football immortality, at least in some way, shape or form.
Remember the Immaculate Reception?
The eligible receiver a few yards further down the field from where Jack Tatum and John "Frenchy" Fuqua collided was none other than tight end John McMakin (third round, Clemson, 1972).
And one of those up front who had been doing what he could to keep quarterback Terry Bradshaw upright long enough to make the throw was left offensive tackle Jon Kolb (third round, Oklahoma State, 1969).
Kolb was selected one year before Blount.
The Steelers should have know then they were onto something on the third round.