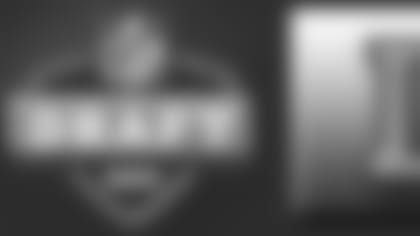 STEELERS DRAFT DAY MEMORIES
Draft day is a different experience for everyone, some enjoying the thrill of being selected in the first-round, while others never have their name called on ESPN. There is excitement and disappointment and the stories are varied, as seen below.



HEATH MILLER, Tight End
2005 STEELERS FIRST-ROUND SELECTION

"There was a lot of anticipation because you knew in a matter of weeks that you would be somewhere in the country, but you don't know where and with what team. There are a lot of unresolved circumstances leading up to the draft.

"I had no clue to be honest with you where I would go. I tried to keep an open mind and tried not to get my heart set on one team to be picked by. I tried to just let things happen. You can't control it.

"I didn't realize the first round took that long. It took all day to get to pick number 30.

"Once I was drafted there were a whole bunch of emotions. It was a relief to know your questions had been answered. It was also excitement to be picked by Pittsburgh. If you are going to have a chance to be in the NFL to play for an organization like this is a dream come true."


ANTHONY MADISON, Cornerback 2006 STEELERS ROOKIE FREE AGENT

"I was hoping I would get a call on draft day. In the back of my mind I knew there was a chance I wouldn't. I knew I had a good career at Alabama, had a great pro day. I did all of the little things right, but obviously it didn't work out in my favor in terms of getting drafted. Being an undrafted free agent I had a chance to pick and choose where I was able to play when all was said and done. I got calls from about 20-25 teams. When the phone started ringing, it was like my own little draft. I felt Pittsburgh was the best fit for me so here I am.

"I prayed about it the night before. I prayed that God would put me in a place where I could make the team. When the calls started coming in I got excited. All I needed was an opportunity. Give me an opportunity and I will do whatever I need to do to make it happen. I knew right away I wanted to go to Pittsburgh. I have always been a Steelers fan. I grew up watching them play. They have a good history of free agents making the team. I felt like I was going to get my best opportunity here.

"After the fourth or fifth round, you have to make the team. In the later rounds you have to fight to make the team. If I was going to get drafted in the seventh round, just let me be a free agent and look at the roster and see where I have the best chance of making the team. It just so happened this was the place that I thought was a good fit for me.

"Draft day was more of a disappointment to my family than me. I knew I would be okay, but I didn't know how other people would perceive me. I didn't look at myself as a failure. All I needed was an opportunity."



**KEN ANDERSON, Quarterbacks Coach 1971 CINCINNATI BENGALS THIRD-ROUND SELECTION

"There was no ESPN in those days so you didn't know until you got a phone call. I was a Division III kid, sitting around in my college apartment with a bunch of friends kind of waiting and hoping. I got a call from a friend in Chicago who said I heard you were just drafted number one by San Francisco. I was like 'what.' It turned out it was a different Anderson and was just miscommunication. Later in the day I got a call from Bill Walsh in Cincinnati and he said they had drafted me in the third round.

"The wait was kind of easy for me. I was not a hot prospect. You are a small college kid just hoping to get a chance to go somewhere. I guess it's nerve-wracking wanting to know where and kind of speculating, but it was kind of an easy day.

"When I did get the phone call I was ecstatic. I think all of a sudden we had so many people over there that my two roommates and I went somewhere else so that we could have some peace when it got going.

"The draft in those days was in January. They had plane arrangements for me to go to Cincinnati the next morning. I wanted my dad to go with me so I told him I was flying in to Chicago so meet me there and we can fly from O'Hare into Cincinnati. My flight was into Midway. He got to O'Hare and found out my flight was coming in to Midway and thought we were flying out of there. A friend picked me up and as we were driving from Midway to O'Hare, he was going from O'Hare to Midway. So he missed the flight and never had the chance to go there with me."


**JOE GREENE, Special Assistant/College and Pro Personnel
1969 STEELERS FIRST-ROUND SELECTION

"It was almost crushing being drafted by the Steelers. They had the fourth pick and that means you lost a lot of ball games. My first year was terrible. We were 1-13. Every Tuesday we had four or five new guys come in for tryouts. Our team had new faces every week because for the most part we weren't very good. I don't think the atmosphere was positive.

"I truly believe along with Chuck (Noll), Dan (Rooney) and Mr. (Art) Rooney that it changed when we moved into Three Rivers Stadium. The attitude began to change. When the attitude changed, that's where it started."