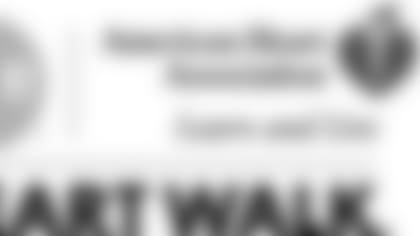 Steelers Safety Ryan Clark and his wife Yonka Honorary Chairs
2008 Pittsburgh Start! Heart Walk

The American Heart Association is pleased to announce that Steeler Ryan Clark and wife, Yonka will be honorary chairs for the 2008 Pittsburgh Start! Heart Walk, scheduled for Oct. 11, at Heinz Field. In this role, the Clark's will help kick off festivities at the Heart Walk and help spread the word about the benefits of physical activity.

"It's critical to be involved in your community and we want to set a good example for our children," said Yonka Clark. "Like so many, heart disease has touched my family. And regardless of who you are, we're all at risk. That is why it's so important for us to participate in the Heart Walk and do our part to help save lives."

The Start! Heart Walk is the American Heart Association's signature fundraising event that brings together individuals, company teams and family teams to raise funds to fight heart disease and stroke, the nation's No. 1 and No. 3 killers.

"It's an important initiative", Ryan Clark adds. "Start! not only promotes the importance of physical activity, it also supports healthy living as a way of life; and that is something Yonka and I truly want our family and our community to embrace."

It's not the first time Clark has been involved with the American Heart Association. Last year he participated along with teammates, in What Moves U, a national initiative with the NFL and AHA to motivate and inspire middle school students to become more physically active by incorporating physical activity in classroom lesson plans.

The Clark's will welcome and be among 10,000 walkers at this year's Pittsburgh Start! Heart Walk at Heinz Field on Oct. 11. Registration starts at 8 AM with activities, giveaways, heart healthy tips and fun for the entire family. Last year, the walk hosted 7,000 walkers and raised $610,000 for heart and stroke research and education.

Start! is the American Heart Association's national call to action that evokes active, year-round participation in walking and physical activity in order to reduce the risk of heart disease and stroke. To reduce these risks, the American Heart Association and the American Stroke Association recommends at least 30 minutes of exercise, such as a brisk walk, most days of the week.

For more information about Start! or the 2008 Pittsburgh Start! Heart Walk, please call 412-702-1192 or visit americanheart.org/pittsburghwalk.