The Steelers have a long history of working with the different branches of the military and on Friday they were honored for their commitment to the Coast Guard.
Members of the Steel City Branch of the Coast Guard Enlisted Association (CGEA) presented a plaque to team officials at Heinz Field, with Jim Rooney joining the group to accept the honor.
"We are a non-profit that operates outside of the Coast Guard, but is made up of Coast Guard members," said Trevor Vannatta, Marine Science Technician 2nd Class and President of the Steel City Branch of the CGEA. "We strive to help the community at large and Coast Guard as well. We do volunteer events and fundraisers.
"This is in appreciation for the generosity and support of what the Steelers do. We appreciate it very much."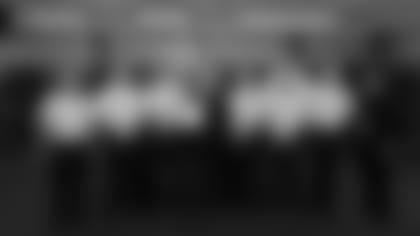 The Coast Guard is often part of the team's game day endeavors, presenting the nation's colors at home games. In addition, the team has honored active and veteran Coast Guard members through programs such as the ATI Salute to Heroes, Heroes at Heinz Field, Armed Forces recognitions, and Salute to Service game to name a few. The Coast Guard also participates in the annual Military Challenge as part of the Salute to Service initiative.
One of the most touching things is when the team hosts ceremonies for change of commands, retirements and swearing ins, which are staples for the military.
The Coast Guard works closely with the team for all home games and events at Heinz Field as far as river traffic and regulations.
Rooney presented an autographed football, special coins and Terrible Towels to the members of the Coast Guard on hand.
"We are grateful for the work that you do," said Rooney. "Our team has tried to be supportive of all branches of the services for many years. That's important to us. We have players engaged, people in the organization or their families who have served. We are grateful for what you do. We are privileged to work with you."