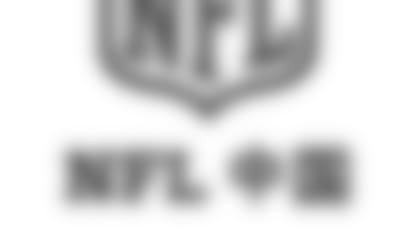 They were as close as any teammates could be, actually considering themselves brothers more than teammates. And now they are getting back together for a journey that will take them thousands of miles from home.
Ryan Clark, Troy Polamalu and Ike Taylor are headed to China to serve as ambassadors for NFL China's University Bowl VII, the university men's division national flag football championship which will be held at Shanghai's Luwan Stadium Nov. 21-22. On game day the three will participate in an All-City NFL Flag football clinic and tackle football training clinic for those 16-years old and over, as well as meet and greets with fans. They will also participate in the coin toss for the game and serve as guest coaches.
"Initially they asked Troy to go by himself," said Clark. "You know Troy, he's an introvert, and he likes to stay at home. He asked them to invite us and they were up for it. Hopefully we get to enjoy it and get to show people the love of football we have.
"It's cool it got to be all Steelers going, and us all being close friends. When you play the game it's rare you get to build the relationships we built in Pittsburgh. It's part of the organization keeping people around and the chemistry and bond there was on that team. We are all still friends. This wasn't just a locker room relationship. We are friends for life. We all retired at the same time and to get to do something like this is exciting and fun. I feel like what other way should it be by three Steelers, three friends, going on this trip?"
In addition to going to the game, the players will have the opportunity to do some sightseeing, including the Great Wall of China. But the main thing though, will be promoting NFL football in China.
"I think the game has popularity everywhere," said Clark. "Just the Super Bowl and how many countries it's broadcast in, how many countries send people over to witness it. It's an important opportunity for us to show our love for the game, our knowledge, and help them gain more knowledge to understand it better. And if you think of the most storied franchise in the NFL, it has to be the Pittsburgh Steelers. For three guys from the Steelers who have played in Super Bowls, who have won Super Bowls, to go over and be ambassadors, it's the true representation of what you want people to know and learn about football. It's a true honor to be able to do it."
A highlight will be an NFL Play 60 Clinic they conduct, giving kids in China a chance to learn about the game from three who played at a high level.
"These kids will just be elated, they will have the joy of learning and playing," said Clark. "They will be listening, as much as they can listen and understand us.
"We're going to get an opportunity to legitimately teach kids who have a very basic knowledge of the game the right way to do things, and the right way to have fun doing things. That is what I am most excited about, spreading the joy of the game, how much fun it is to play, to be a part of a team and for America what is the greatest sport on earth."
And while there is a lot of excitement about the trip, it is a trip to a country where language is definitely a big barrier and what to eat could be a concern.
"I am looking forward to seeing Ike communicate with people in another country," laughed Clark. "If I had to pinpoint one thing I am most excited about it, it would be that. Ike trying to get us around, get us something to eat or figure out what we are going to do and being the point person to make sure things are taken care of as far as communication, it would be a joy to see that.
"I am sure they will have people to get us around, communicate for us. I think the hardest thing for me is going to be the food. I am not sure what we will eat, when we will eat. I am going to bring a lot of snacks to make sure I have a lot to eat. I think that is it. Getting around, communicating won't be hard. Food will be hard."