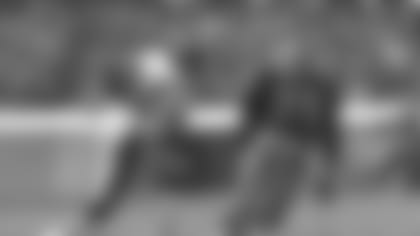 Another in a series of stories chronicling the 52 playoff games in Steelers history.**
In the NFL, a Conference Championship Game is important just because of what it means. Win and go to the Super Bowl. Lose and a season that had been successful just for getting so far ends in bitter disappointment.
Those are the stakes for a normal Conference Championship Game, but the 1976 AFC Championship Game was anything but a normal one.
The teams vying for the 1976 AFC Championship were the Pittsburgh Steelers and the Oakland Raiders, and at that time there was nothing normal about their matchups. The hatred had been percolating for five seasons, and even beyond that there were some extras that added to the intrigue of this particular one.
There were the injuries to the Steelers' starting backfield of Franco Harris (ribs) and Rocky Bleier (toe), and the maladies were extra significant in light of the fact both players had rushed for over 1,000 yards during the 14-game regular season. And to a lesser extent, there were the injuries to Frenchy Fuqua's calf and Roy Gerela's groin. That's three running backs and the placekicker. As the week of preparation for this game began, nobody, not even those players themselves, knew if they would be available for this game.
This was yet another rematch of the NFL's two undisputed heavyweights of the 1970s in another win-or-go-home playoff game, and the violence quotient had grown exponentially over the course of the series. Jack Tatum and then George Atkinson had taken Lynn Swann out of each of the two previous meetings with blows to the head. Chuck Noll had responded to the second incident by using two words – criminal element – and there was a pending lawsuit, but that would be adjudicated in the upcoming offseason. For now, there were charges of dirty play and promises to retaliate for dirty play.
And this wasn't just media hype, either. Tommy Bell, a long-time and distinguished NFL referee, had made it known he would retire at the end of the season, and Commissioner Pete Rozelle allowed him to pick his final assignment. His choices: Steelers vs. Raiders, or Super Bowl XI.
Bell never hesitated. On Dec. 26, 1976, Tommy Bell stood at midfield of Oakland-Alameda County Stadium and flipped the coin to start the AFC Championship Game.
Tommy Bell picked Steelers-Raiders because the rivalry had reached Def-Con 5 earlier in the year when, for the second straight time, Oakland defensive backs attacked Swann with apparent intent to injure. In the 1975 AFC Championship Game, Swann had been concussed by Jack Tatum, and in the 1976 regular season opener Atkinson committed the act that precipitated the "criminal element" comment from Noll.
With Franco Harris running down the far sideline after catching a swing pass, Atkinson came at Swann from behind and swung his forearm at Swann's head. Don Meredith, the NBC color commentator, said on the air at the time, "I'm telling you, they're picking on Lynn. I don't think you're supposed to do that. I think Atkinson did another no-no – gave him a karate chop across the back of the neck."
After the game, in which the Raiders staged a dramatic fourth-quarter rally to win, 31-28, Chuck Noll had been gracious toward the winners until he was asked about the Atkinson hit on Swann. Then Noll got angry as he spoke about the tactic of hitting a receiver in the head with a forearm.
"There was a lot of discussion about putting a rule in against it this year," Noll began. "It wasn't done and the reason given was that, although it was illegal, no special rule was needed. There should've been a rule against slapping receivers years ago. Maybe they're waiting for somebody to get killed."
Then Noll directed his ire at the Raiders. "They went after Swann again. People that sick shouldn't be allowed to play this game. Watching something like that clouds the hell out of what their offense did. It seems to come only from their defensive unit. Maybe that's a reflection on their coaching."
But some three months later, when it came time to play for the conference championship, this issue was a sidebar to the Steelers' current injury situation. Franco Harris (1,128) and Rocky Bleier (1,036) were the first players in team history to rush for over 1,000 yards in the same season, and the Steelers still were very much a run-first offense. If those two couldn't play, and if Fuqua also couldn't play, that meant Reggie Harrison would be the only healthy running back on the roster, because Jack Deloplaine had broken a leg earlier in the season.
"They can do without me," said Bleier, "but it'd be tough without the big man." Added Joe Greene, about Harris: "Broken ribs are kind of hard to suck up. Even if they're not broken, a bad bruise there makes it very difficult to breathe. Damn near impossible."
This situation with the injured running backs was likely to have the most impact on the outcome of the game and therefore determine the AFC's representative in Super Bowl XI, but the media was all over the rhetoric about the charges and countercharges of dirty play.
"The Steelers started all this, but their coach was smart enough to turn it around on us," said Al Davis of the Raiders. "(Noll) was smart. He made us look like the villains, but you don't think the Steelers got where they are by playing nice, soft football, do you? Be assured, they didn't get to the Super Bowl the last two years by being nice fellows."
One Washington, D.C., reporter wrote that "Oakland has the nastiest defensive backs this side of Attica's all-star intramural team," and Greene told another writer that he was going to play this game any way the Raiders wanted to play it; dirty, clean, whatever. That brought another response from Davis.
"Greene is trying to become the Muhammad Ali of pro football," said Davis. "I'm sure we've got many players willing to meet Joe halfway and get it straightened out before the game. When Greene made those statements, one of our new defensive linemen asked if he could challenge Greene before the game. We've got a lot of guys who could handle him. I'm not so sure Tatum couldn't do it himself."
The hype for this game was off the charts, but as so often happens in such situations, the actual game part of the whole extravaganza was disappointing.
The Steelers opened with three tight ends – rookie Bennie Cunningham, Randy Grossman and about-to-be-converted-to-tackle Larry Brown. The only healthy running back was Reggie Harrison, and he started. Frenchy Fuqua, who hadn't practiced all week, was in uniform and played in spots, but the primary offensive formation the Steelers used was one-back.
"We knew all along that Deloplaine was out, and when we kept hearing that the other guys – Rocky and Franco and Frenchy – weren't practicing, we started working against a four-end offense," said Raiders coach John Madden. "Tight ends, wide receivers – what difference does it make? There are only so many combinations you can use."
Coach Joe Gibbs would win Super Bowls in the 1980s for the Washington Redskins with a power-running offense that operated from a one-back set, but in 1976 this was avant-garde stuff. Noll had only one week to come up with something to use, and use on the road against a great Raiders team geeked to the max. Even though some of what the Steelers showed that afternoon in terms of the utilization of offensive formations was what Gibbs' teams used later so successfully, trying to get it installed and taught in a week with backups against the Raiders had little chance to succeed. And the Steelers also were going with backup center Ray Mansfield as their placekicker in place of the injured Roy Gerela.
In the first quarter, a Pittsburgh offense that rushed for over 200 yards in nine of its previous 10 games managed only 8 yards, and because Bradshaw complemented that by going 0-for-5, the Steelers didn't get their initial first down until midway through the second quarter.
The Steelers defense wasn't giving the Raiders anything, either, and so the game's first score came from the kind of mistake that's critical in a game like this. When Mike Webster went to the sideline briefly with an injury, one of the plays he missed was one of Bobby Walden's seven punts. Special teams was not a priority for the Steelers coaching staff in those days, and Walden had been borderline all season even with the first-string long-snapper. The change from Webster to Mansfield resulted in a punt that took long enough to be partially blocked. A short drive later, a 39-yard field goal gave the Raiders a 3-0 lead.
More mistakes helped the Raiders get to 10-0. Fuqua's run for a first down was nullified by an offside penalty on Cunningham, and on the do-over, Terry Bradshaw's pass was tipped, intercepted by Willie Hall and returned to the 1-yard line. Clarence Davis took it over from there.
The Steelers offense answered this with a 75-yard drive keyed by passes of 11 yards to Frank Lewis, 18 to John Stallworth and 30 to Swann. Harrison bulled over from the 3-yard line, and it was 10-7.
Suddenly the offenses were awake. The Raiders didn't have a lot of time before the end of the first half, and a turnover would've been a disaster. The Steelers defense was averaging over three takeaways a game and maybe looking too much for one here. Oakland ran the ball three straight times for 29 yards, and that emboldened Madden. It came down to a third down from the Steelers 8-yard line with 25 seconds left. Ken Stabler's pass was incomplete, but a holding penalty on cornerback J.T. Thomas gave Oakland another chance. On the next play, the Steelers blew a coverage on Warren Bankston, and Stabler found him for a 17-7 lead that had looked like it was only going to be 13-7.
When the early part of the second half didn't go well for the Steelers, the game essentially was over. After their offense went three-and-out on its first two possessions, the defense allowed the Raiders a second long touchdown drive of the game. The one at the end of the first half was 69 yards in 14 plays; this one was 63 in 12. Another short pass – this one to Pete Banaszak just as Jack Ham was leveling Stabler – ended the afternoon's scoring, and the Steelers' shot at history.
Afterwards, the game that was supposed to degenerate into a street fight ended up with only a dozen 5-yard penalties assessed, but it didn't lack for hard hitting. The Raiders were jubilant because in their minds they finally had righted the many wrongs done to them by the Steelers/league office starting with the Immaculate Reception, which was four playoff matchups ago; the Steelers were matter-of-fact in praising the Raiders, but no amount of congratulations completely covered their bitterness at having to play these hated rivals without their pair of 1,000-yard backs.
"I'd play 'em again tomorrow. Just give me a few beers, a couple of hours of sleep, and I'll be out there at 1 p.m. tomorrow," said Lambert. Across the room, Bradshaw added, "It was a tremendous year. We'll probably remember it longer than the others."
Harrison 3 run (Mansfield kick)
Bankston 4 pass from Stabler (Mann kick)
Banaszak 5 pass from Stabler (Mann kick)