By Teresa Varley
Steelers.com
At a time of year that's about giving to others Steelers players did their part to make sure that many who would have done without will now have a special Thanksgiving.

Linebackers Larry Foote and James Farrior, offensive tackle Max Starks and safety Tyrone Carter all hosted turkey giveaways for those in the community who are in need.

Foote and Farrior brought happiness to families when they purchased and gave away turkeys at the Crossroads United Methodist Church in Pittsburgh through the Tree of Hope organization. The Tree of Hope serves families who have been impacted by acts of violence and others in need.

"We are just trying to give back," said Foote. "If we bring smiles to people's faces we know we have done things. It's a good program there. It's giving back to the inner city. I am a product of that environment so I am always going to give back."

There were plenty of smiles, hugs and warm thank you greetings as young single mothers and strong grandmothers walked away with a turkey in the arms and love in their hearts.

"We're in a fortunate situation where we can give back to the community," said Farrior. "It's a chance for us to show that we care about the people in this town. They are not just fans. They are people that have a lot of problems and go through a lot of stuff. We are here to help them any way that we can. It gives me a special feeling in my heart to be able to help these families out."

But there were also tears and fond memories as some shared with the two players about how their lives have been impacted by violence and how much they miss loved ones who were lost.

"We don't know what we would do without them," said Adrienne Young, executive director and founder Tree of Hope. "Everyone in the community is amazed that they are doing this and talk about the Steelers giving us turkeys. When you get the dynamics we are dealing with and things are so limited, a turnkey can build their whole dinner. It means so much to them."

Starks hosted the annual Max Starks & His Home Team Thanksgiving Celebration which provided 200 needy families with the makings for Thanksgiving dinner, including a turkey and all of the fixings.

"I think it's important," said Starks. "A team and the individuals involved with it are only as good as the community that supports it. If your community is in need, then it's our responsibility to help them when we can.

"This is one of the most important times, which is giving thanks for what you have and giving to others if you have the means to do it. It's important to give to others when you have the means to do it."

Starks, along with his mother Eleanor and some of his Steelers teammates, handed out the turkeys and fixings to families at the Greater Pittsburgh Community Food Bank.

"At one point in my life when I was younger, we were that family that needed that help," said Starks. "I can understand what they are going through. I can relate to that struggle. If there is any way of helping ease that, especially at the holidays because you don't want people to be hungry then.

"If families are doing everything they can and sometimes the ends don't meet, we can be that bridge and all of us are better because of it. We can't just say we will let someone else do it. We have to handle it ourselves. You hope you brightened someone's day and made somebody's holiday a little more bearable."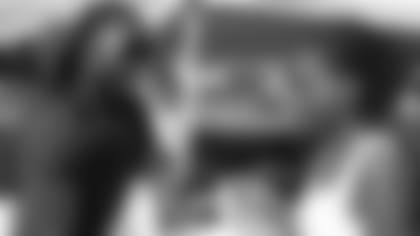 Carter returned to his old Collier City neighborhood in Pompano Beach, Florida over the weekend and continued his yearly tradition of giving away turkeys to needy families.

Last year Carter purchased 1,000 turkeys to give but they ran out. This year he doubled that, giving away a remarkable 2,000 turkeys – all of them purchased through his foundation, T. Carter Connection Foundation, which he funds himself.

"In my community I know what it's like not to have things, especially at a time like this when people don't have money, they are losing their jobs and their houses," said Carter. "I was just giving thanks to my community for how much they mean to me. If you give the family a turkey, when they are having that dinner they might not have a lot, but at least they have a turkey."
Carter was overwhelmed not by the number of people that came out for the turkeys, but from the outpouring of love he received back from them. Something as simple as a thank you or hug from someone who has nothing can go a long way.

"Words can't express it," said Carter. "They are truly thankful for me doing what I am doing. To see the smiles on their face and the true meaning of it, they appreciate it. That means more than anything to me."